Children's experiences in the early years set the foundations for long-term behaviour and emotions. Early Childhood Education and Care (ECEC) settings are often a child's first formal, group-based social experience outside their family and this context of peer, adult and group interactions presents a range of learning opportunities and challenge. Some children require additional support to navigate the behaviour expectations in these contexts. At times, some children may exhibit challenging behaviours.
Challenging behaviours can be broadly defined as those that reflect a misalignment between behaviours that are expected and observed. Australian early childhood educators identified challenging behaviours as a major impediment to workplace wellbeing and educational effectiveness, and as a key practice area for which they seek support (Thorpe et al, 2023).

In 2022, Evidence for Learning commissioned a systematic literature review on responding to challenging behaviour in ECEC settings in response to this need.

This review provides a summary of the Australian and international research evidence on responding to challenging behaviour with children aged between 2 and 5 years old in ECEC settings. It is focused on strategies that can be applied to common, low to mid-level behaviours that can be de-escalated or redirected within the room by an educator or educator team.
A database search was conducted to identify relevant, published, peer-reviewed articles that assess strategies to respond to challenging behaviours with children, aged 2 – 5 years, in ECEC settings.
Accepted study designs included intervention, observational, cross-sectional, and qualitative studies. Studies included were published in English from 2000 – 2022 and were only included if the strategy/​strategies identified were implemented directly by an ECEC educator or teacher.
Studies excluded were of children in school, children with specific diagnoses or learning difficulties (e.g., children Autistic Spectrum Disorder, or in specialised support programs) and children younger than two years. Selection of strategies suitable for children with specific diagnosis is best made in consultation with families and professional support services.
Key strategies for responding to challenging behaviour in ECEC that can be helpful include:
Setting the scene: To prevent or plan for the potential of behaviours that challenge
Responding in the moment: To respond to a behaviour that challenges
Re-setting the scene: To prevent further instances of a behaviour that challenges.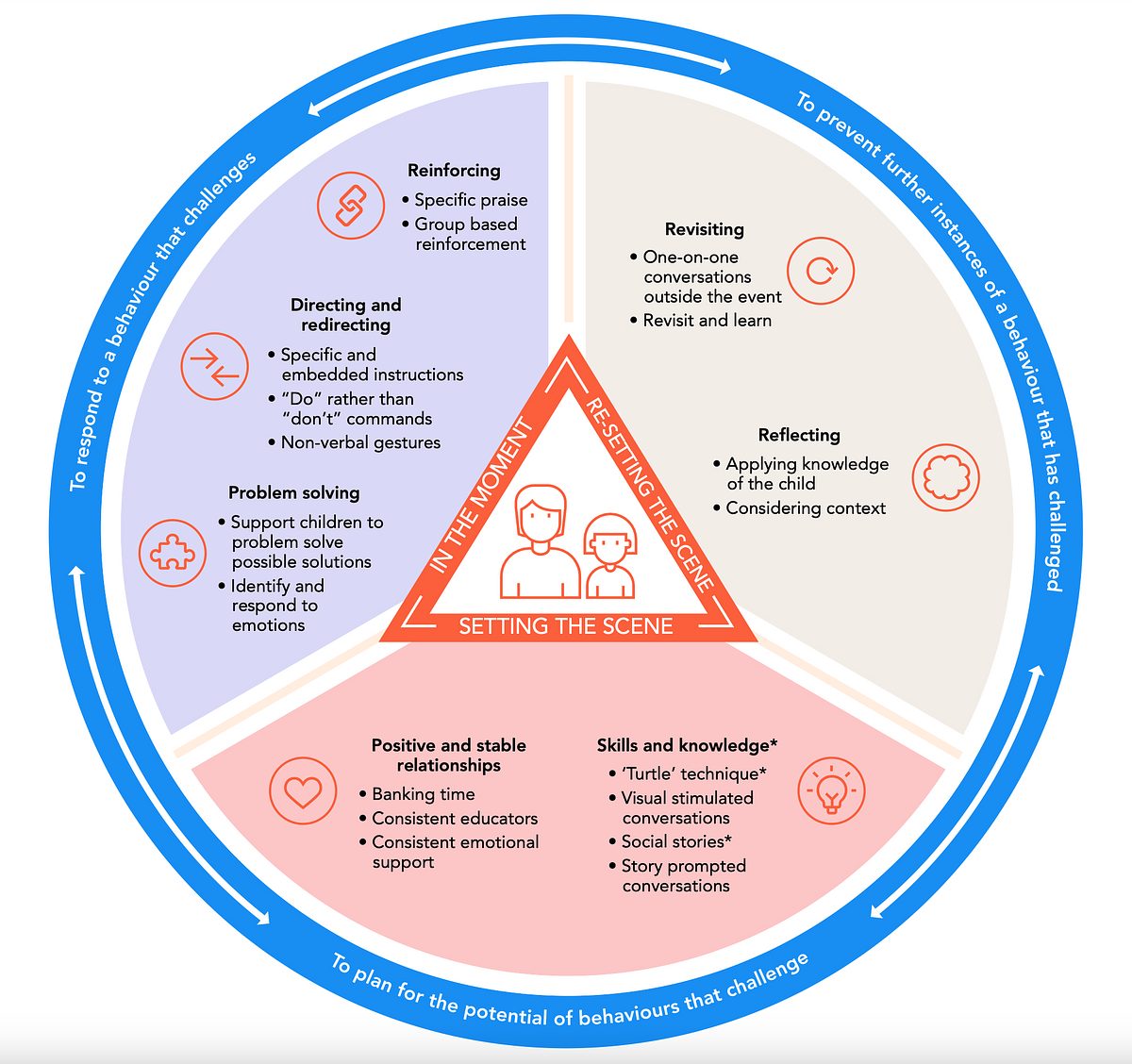 The following report is free to access and download.
This review was completed by the Queensland Brain Institute at the University of Queensland.

References
Thorpe, K., Panthi, N., Houen, S., Horwood, M., & Staton, S. (2023). Support to stay and thrive: mapping challenges faced by Australia's early years educators to the national workforce strategy 2022 – 2031. The Australian Educational Researcher, 1 – 25.